Words for Change: A fundraiser supporting Tarrant Literacy Coalition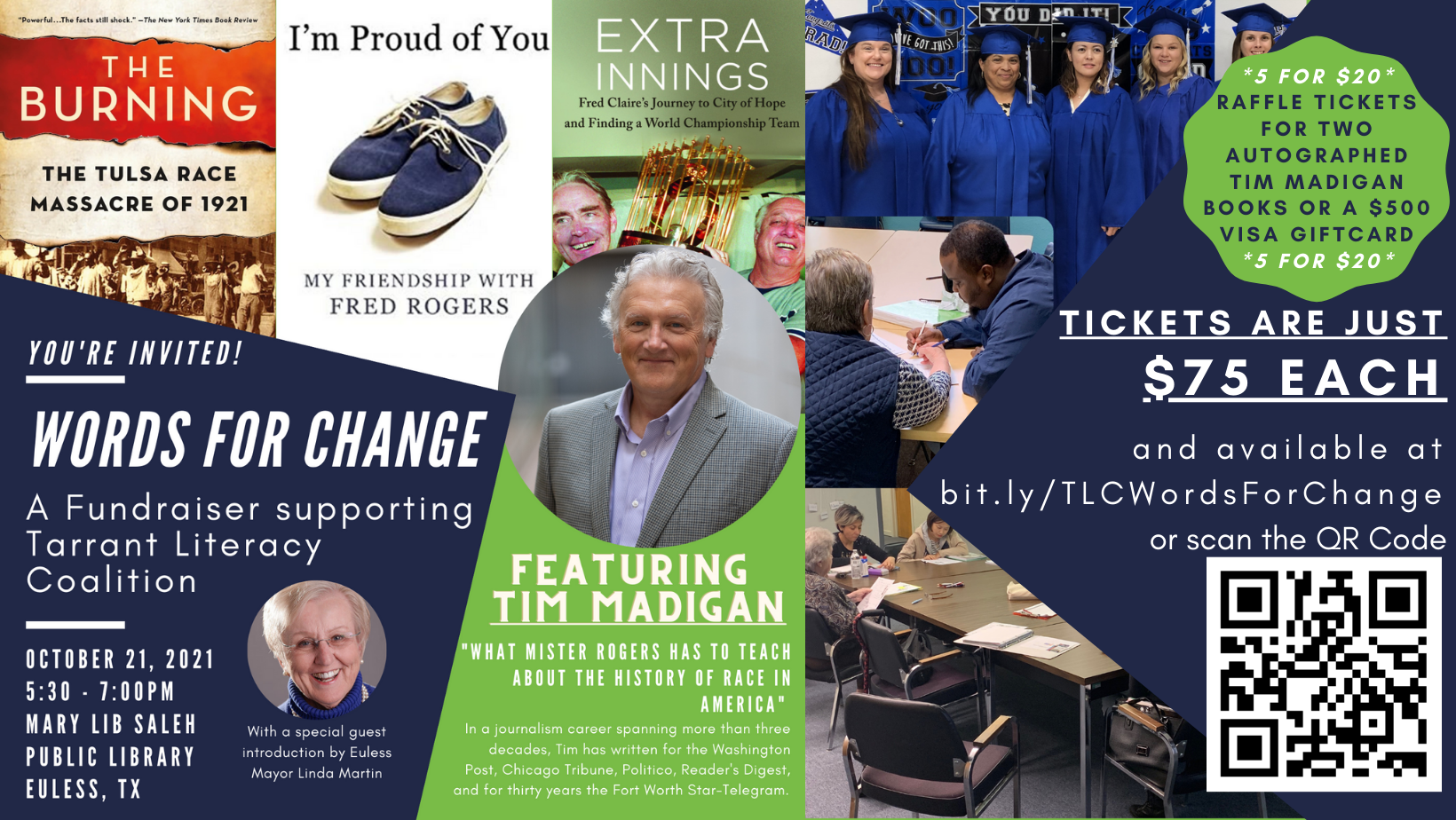 This October 21st, we hope you will join us for Words for Change, a fundraiser supporting the Tarrant Literacy Coalition and the adult learners we serve. This first-time-ever event will feature author and journalist Tim Madigan discussing the topic "What Mr. Rogers has to teach us about race in America." We'll also be joined by special guest Euless Mayor Linda Martin.
Words for Change is taking place at the newly remodeled and beautiful Mary Lib Saleh Public Library from 5:30-7:00 pm. Tickets are $75 and are 100% tax deductible. Heavy hors d'oeuvres will be served by the Raven Grille. You'll also be able to purchase raffle tickets (5 for $20) for a chance to win either autographed copies of Tim's books THE BURNING and I'M PROUD OF YOU or a $500 Visa gift card. *note* You do not need to be present to win a raffle prize.
Seating is limited to the first 100 people.
Follow the links to purchase your tickets today and help us build a truly brighter community!
About our featured speaker:
In a journalism career spanning more than three decades, Tim Madigan has written for the Washington Post, Chicago Tribune, Politico, Reader's Digest, and for thirty years the Fort Worth Star-Telegram.
Tim's books include the critically acclaimed and best-selling The Burning: The Tulsa Race Massacre of 1921, which is the definitive account of America's worst episode of racial violence. The Burning became a New York Times bestseller in June 1921. He's also published a novel of the Greatest Generation, Every Common Sight; and another work of non-fiction, Of the First Class: A History of the Kimbell Art Museum, a behind the scenes account of how the world-renowned Fort Worth cultural institution came to be.
It was a 1995 assignment for the Star-Telegram that led to Tim's interview with Fred Rogers, the icon of children's television, and a close friendship between the two men that lasted until Rogers' death in 2003. Tim's memoir, I'm Proud of You: My Friendship With Fred Rogers, is an intimate account of Rogers' human greatness, and a testament to the healing power of friendship.
That transformative relationship and Tim's own experiences as a seeking and healing human being remain at the heart of his work. More than a decade after it was first published, I'm Proud of You continues to inspire readers around the globe, and Tim continues to speak of Mister Rogers and matters of the heart to varied audiences around the nation.
His most recent major work is a cover story on the Tulsa Race Massacre for the April 1921 edition of Smithsonian magazine.