Spell for Lit-er-a-cy
In 2008, members of the Rotary Club of Fort Worth hosted the Coalition's first Corporate Spelling Bee, which raised almost $50,000 to help open the doors of the original coalition office near downtown Fort Worth.  The event combined fun, food, laughter, and genius with an opportunity for community leaders to come together to support adult literacy. Each year since, Tarrant Literacy Coalition has hosted a fundraising event which has provided supporters and participants the opportunity to showcase their spelling ability while generating significant financial support for the important work of the coalition.  
De·vel·op Team Spirit
Line up the spellers. Corporate Spelling Bee teams are comprised of three (3) adult spellers chosen by the sponsoring business or organization. In addition, each team designates an alternate speller in case someone cannot attend the day of the Bee.
Plan the strategy. Most teams hold practice meetings and study the practice words provided by the Coalition. Teams designate a lead speller to speak for the team, and because the competition is so fierce, they'll be sure to practice their favorite spelling technique.
Recruit the cheering squad. Team spirit isn't just for spellers! Spellers usually recruit co-workers, family and friends to attend the Bee to cheer for them as they spell their way to victory!
The Com·pe·ti·tion
The Bee starts with a warm-up round of rather easy words for our sponsoring organizations. The Wordmaster assists teams by using the word in a sentence. Trust us, it's important for spellers to ask for a sentence - and a definition! The following rounds quickly increase in difficulty until the Champion is declared.
Sound rigorous? Arduous? Formidable? Daunting? Our Corporate Spelling Bees have been all that and much, much more!
As a reward for bravery and savvy, the 1st, 2nd, and 3rd place teams have received gift bags of great prizes from local restaurants, stores, and sporting venues who have generously supported the Bee. The 1st place winner of the Bee has also had the privilege of keeping the beautiful traveling Corporate Spelling Bee trophy for one year, with the team name engraved on a plaque.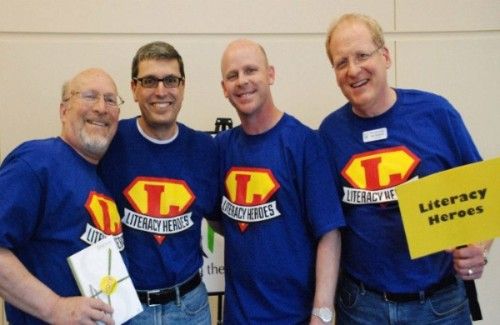 Past Cham·pi·ons
2008 Texas Christian University

2010 United Way of Tarrant County

2011 Texas Christian University

2014 Texas Wesleyan University

2015 Texas Wesleyan University

2016 Texas Wesleyan University

2017 Texas Wesleyan University

2018 Rotary Club of Fort Worth/United Way of Tarrant County

2019 Texas Wesleyan University